Genuine Original Parker Racor RK CLS 110-10LU/612600190993 low pressure gas filter for natural gas engine specification:
Both Genuine and high quality replacement are available.
Part No.:Parker Racor RK CLS 110-10LU,RK CLS110-10LU,RKCLS110-10LU,CLS110L-10.
OEM No.:Weichai 612600190993;Yuchai J5700-1107240A,J5700-1107240,YR-0001,YR0001-937-F;Shanghai diesel engine WG9925553120+001/1(SDEC).
Filtration Accuracy:0.3-0.6μm
Height:12.7 cm,5 in.
OD: 3.8cm,1.5 in.(old type); 4.4cm,1.7 in.(Upgrade).
Application:Parker Racor FFC-110L natural gas filter assembly,Yuchai Weichai Shanghai diesel engine,Yutong bus,Ford,Volvo etc.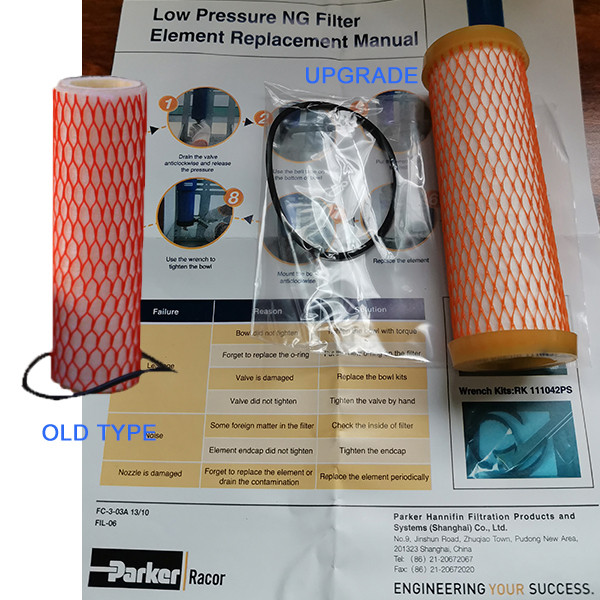 Why Coose us?
1.Authorized wholesaler of Parker Racor filter,Provide you top quality genuine Parker Racor oil filters,diesel fuel filter,fuel water separator,hydraulic filter etc.
2.Besides Parker Racor filter,also authorized wholesaler distributor of shanghai fleetguard filter,Baldwin filter,ZF parts,Yutong bus parts,Continental Contitech air spring etc.
3.Experienced OEM filter manufacturer since 1980s--Pingyuan filter branch in Zhengzhou,who is Original filter manufacturer for Chongqing Cummins engine,Weichai engine,Yutong bus,JMC,Doosan machinery,Liugong,Iveco,Isuzu etc. in China.
4.OEM and high quality replacement is also available.
5.Door to Door service.
For any Parker Racor filter requirement,welcome to email us,admin1@hnjingfu.com.