VOITH VR115CT 115CT VR 115ct hydraulic retarder for truck bus brake system specification:
| | |
| --- | --- |
| Model | VR115CT |
| Max Input Rotating Speed | 2478 rpm |
| Max Braking Torque | 3500N·m |
| Working Medium | Oil |
| Oil/Water Filling Volume | 6.8L |
| Rated Voltage | 24V |
| Net Weight | 52KG |
Features and advantages:
1. The maximum surface temperature of this VR 115 CT retarder does not exceed 150℃,and there is no fire hazard;
2. The retarder has a compact structure and light weight;
3. Unique rotor disengagement technology to minimize idling power loss;
4. Modular design,more convenient maintenance;
5. Does not affect the installation and use of PTO;
6. The maximum working current is only 1A and there is no electronic interference;
7. It can be applied to almost all electronic control systems and can do CAN communication with various parts of the vehicle to reduce hard-wire connections,including vehicle speed signals,throttle signals,fault codes,ABS,AMT and EBS etc.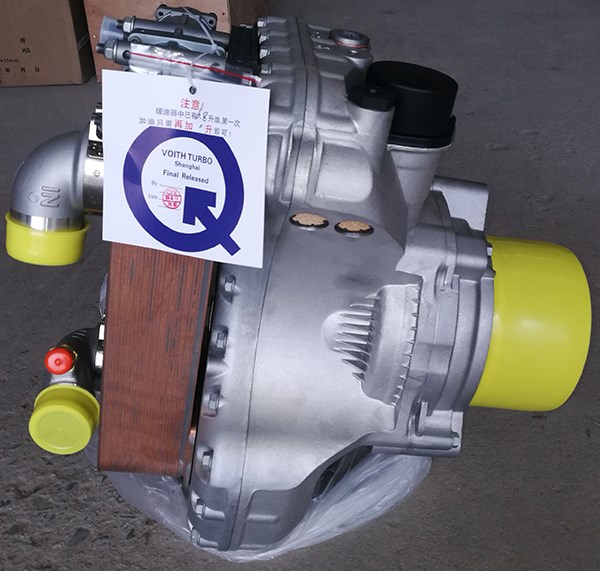 Why Coose us?
1.Authorized wholesaler of VOITH,Provide you top quality genuine VOITH oil filters,hydraulic pump parts,transmission gearbox parts etc.
2.Besides VOITH parts,also authorized wholesaler distributor of Shanghai Fleetguard filter,Parker Racor filter,Baldwin filter,ZF parts,Yutong bus parts,Continental Contitech air spring etc.
3.Experienced OEM filter manufacturer since 1980s--Pingyuan filter branch in Zhengzhou,who is Original filter manufacturer for Chongqing Cummins engine,Weichai engine,Yutong bus,JMC,Doosan machinery,Liugong,Iveco,Isuzu etc. in China.
4.OEM and high quality replacement is also available.
5.Door to Door service.
For any parts of trucks and machinery,welcome to email us,admin1@hnjingfu.com,wechat/whatsapp:+86 18137786577..