Parker Racor 1000FH fuel filter water separator,well known as great helper for truck and marine engines,the king of fuel filter water separator.There are also lots copyist of Parker Racor 1000FH on the market,named 1000FG,various price and quality.Why we suggest you choose Genuine ,see the below 3 reasons.

The First point,Parker Racor patent--3 Step Filtration design. 1st step,when the fuel went into the filter,cause gravity,the density of water is higher than diesel fuel or gasoline and aviation kerosenen,moisture will naturally settle;2nd step,Then under the action of the centrifugal force of the turbine,the fuel reaches the position of prefilter for the secondary filtration(marked 2 on picture).The 3rd step,finally it's the third filtration of high efficiency 2020pm,2020tm replacement filter.Through these 3 step filtration in genuine filter,the filtration effiency is much more higher than the copyist 1000FG,which is only filtration by the replacement filter element.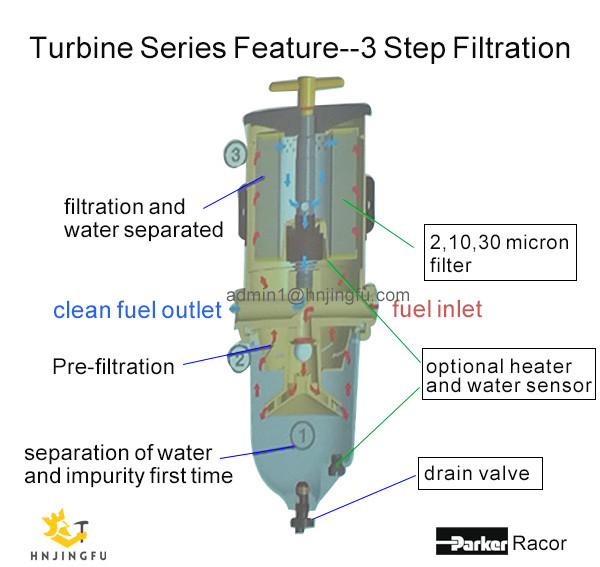 The Second point,Genuine Parker Racor replacement filter element ,,2020sm use Parker patented Aquabloc II material,with superior water resistance,Water not only can't pass,even can't adhere to the filter element.For 2020SM filter,the 2 micron impurities can't pass,Longer life and higher efficiency.While the copyist on market just choose composite paper material etc.,which there is not micron saying for the actual filtering effect.This is another reason why copyist 1000FG can't comparable to Genuine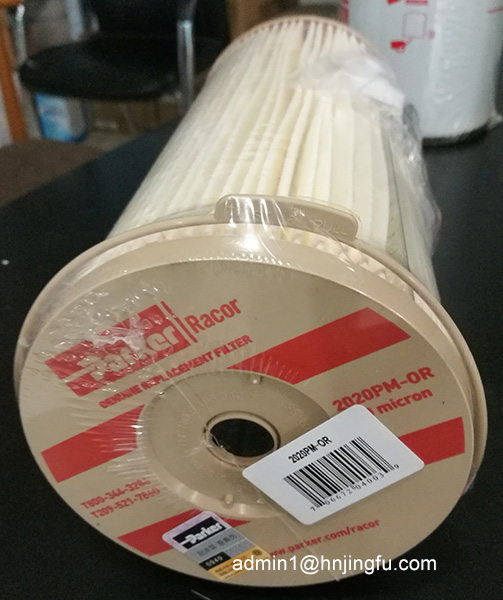 The Third point,ball valve protection design,made of imported materials,which has extremely high sealing requirements.Even if the user always forget to drain water,The water will eventually push the ball valve off the fuel inlet, reducing engine power and even shutting down.This is the last defense line to protect the engine from water damage, forcing the user to release water,which is equivalent to installing an alarm for your fuel water separator.Does the copyist 1000fg has this protection design?Of course not.
For Genuine original Parker Racor 1000FH fuel filter water separator,welcome to contact Henan Jingfu for more details,Authorized wholesaler,large stock.
We're glad to send you more filtration video of and ,,2020SM filter element.
Email:admin1@hnjingfu.com,wechat:+86 18137786577